PeopleOne To Be Featured at the Future of Work Expo June 21 – 24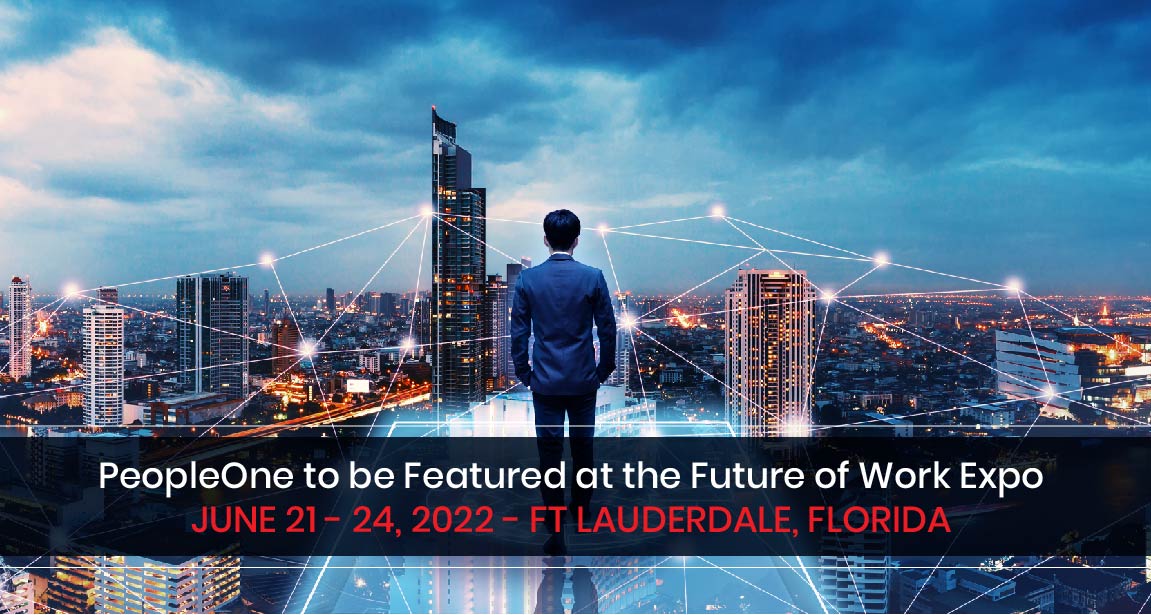 Ritwik Bose to speak on the benefits of a mobile-first employee experience in driving productivity and positivity from the internal culture to the external experience.
Richardson, TX – June 2, 2022 – PeopleOne announced it is a key participant in the Future of Work Expo, part of the Tech Super Show produced by ITEXPO, one of the largest and longest-standing gatherings of top IT decision-makers, influencers, and service providers in the world.
PeopleOne makes every conversation, process, and task easy, placing all your tools in one place so employees can work smarter, not harder.
Eleviant, which created the PeopleOne platform, symbolizes business transformation and parallels the mission to help clients elevate and scale their businesses, supporting technological needs at all stages along the way.
As a Silver sponsor for the Future of Work Expo, the #TECHSUPERSHOW, PeopleOne will demonstrate its mobile application and cloud-based platform. The Future of Work Expo is June 21–24, 2022, at the Greater Fort Lauderdale/Broward County Convention Center in Fort Lauderdale, Florida. Join us and see how PeopleOne serves Human Resources, Corporate Communications, and IT teams in empowering their employees. 
"We are looking forward to speaking at the Future of Work Expo and sharing our reflections and thoughts on Employee Experience & Engagement," said Ritwik Bose, Sr. Director – Digital Strategy at Eleviant. "Digital Workplace is not something new but was accelerated due to the Pandemic. Our product PeopleOne was built keeping the 'Employee' in mind and how it can help connect the dots of Workplace and Engagement Culture. Whether Organizations are using SharePoint on-premises or cloud, PeopleOne becomes that central bridge, across physical and virtual boundaries, giving employees one platform to engage, connect, collaborate, and communicate."
"We're glad to welcome PeopleOne as a Silver sponsor of the Future of Work Expo in 2022," said Rich Tehrani, TMC's CEO. "One powerful platform – multiple solutions. PeopleOne offers an all-in-one digital solution combining all the elements of a digital workplace under a single roof. Using Microsoft Office 365's SharePoint, PeopleOne empowers all members of an organization to communicate, collaborate and connect better. They are a must-see at the Future of Work Expo."
PeopleOne is a story about community. We recognize that the world is changing, and the people living in it are integrated with technology. Why are those traditional workplaces still working in a silo, where departments are separated by outdated methods of communication, collaboration, and connectivity in their legacy systems?
About People One
PeopleOne is an all-in-one digital solution combining all the elements of a digital workplace under a single roof. Using Microsoft 365's SharePoint, PeopleOne empowers all members of an organization to communicate, collaborate and connect better.
Learn more at https://www.peopleone.io.
About Eleviant
Eleviant provides businesses with new ways to work, communicate, and scale. In addition to core services including Mobile App Development, Web App Development, Cloud Migration, and managed IT services, Eleviant now offers Intelligent process automation, blockchain, and cyber security services, ensuring companies keep data safe and secure.
Learn more at https://www.eleviant.com/.
About TMC
Celebrating 50th Anniversary in 2022. Through education, industry news, live events and social influence, global buyers rely on TMC's content-driven marketplaces to make purchase decisions and navigate markets. As a result, leading technology vendors turn to TMC for unparalleled branding, thought leadership and lead generation opportunities. Our in-person and online events deliver unmatched visibility and sales prospects for all participants. Through our custom lead generation programs, we provide clients with an ongoing stream of leads that turn into sales opportunities and build databases. Additionally, we bolster brand reputations with the millions of impressions from display advertising on our news sites and newsletters. Making TMC a 360-degree marketing solution, we offer comprehensive event and road show management services and custom content creation with expertly ghost-crafted blogs, press releases, articles and marketing collateral to help with SEO, branding, and overall marketing efforts. For more information about TMC and to learn how we can help you reach your marketing goals, please visit www.tmcnet.com and follow us on Facebook, LinkedIn and Twitter, @tmcnet.
For the latest Future of Work Expo news, updates and information follow the event on Twitter at @FOW_Expo.
Schedule A Meeting With Us
Schedule A Meeting With Me

Schedule A Meeting With Me

Schedule A Meeting With Me